by Joseph K. Levene
Why did Sotheby's state Jasper Johns Savarin Blue lithograph offered and sold at auction was in "good condition" even though the impression was no longer Blue?
Since the blue is significantly faded in the Savarin Blue sold by Sotheby's, (the impression on right), why did Sotheby's state that the lot that fetched $46,000., "is in good condition"?

The side by side comparison demonstrates the condition difference between a pristine impression as originally published in 1979 by U.L.A.E. and the impression sold at Sotheby's.
You can immediately see the "blue" is significantly faded in the impression on the right. The buyer of the Sotheby's Jasper Johns Savarin 6 (Blue), was misled since the
Jasper Johns Savarin Blue sold by Sotheby's is not "in good condition".


There are 2 essential issues when you Buy Art:
Although Sotheby's and Christie's have a terms of guarantee which includes authenticity
, there is always a disclaimer for condition.

Condition Disclaimer

Condition Disclaimer
Frequent abusers of inaccurate Condition Reports are major International Auction Houses, including Christie's and Sotheby's, as well as
smaller Auction Houses, Phillips de Pury
, Bonhams and Swann.
Auction Houses regularly issue misleading condition reports, and due to cut-backs, no longer routinely publish condition statements in catalogues, leaving buyers blind, especially if they do not inquire regarding condition.
Did buyer of the $107,000.,
Marcel Duchamp
Boîte sold at Christie's, 7/7/2010, realize extensive insect infestation?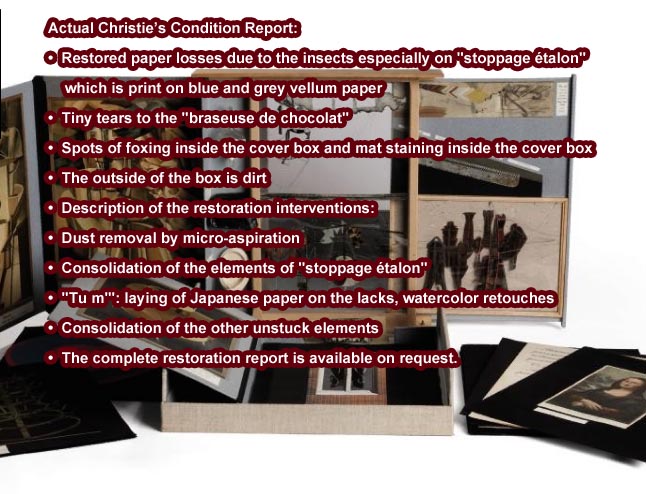 Marcel Duchamp Boite Christie's Sold for $107,000.
Although Christie's offered the Marcel Duchamp Boite with the extremely low estimate of $7,535 - $10,046., there was no statement of condition in the published catalogue description.
We hope the buyer of this
Duchamp
realized the Boite was not only accompanied with the excrement of a thousand insects, but also augmented with "dust control by micro-aspiration of every element constituting the bag"; "alteration in watercolor", (the Boite was not originally published with watercolor) and "consolidation of the other landings".
By the way, this only begins the "bad" news; the full treatment report must be requested, if the prospective bidder/buyer knew to request it.
Let's hope the buyer read it and was fully informed!
We would not buy nor sell a work of art in this degraded condition, nor recommend its purchase to anyone.
Furthermore, no reputable art dealer would consider selling this work of art in such compromised condition without explicit disclosure.
This Duchamp Boite was no bargain, even with its low estimate; not publishing a condition statement is unacceptable.
What do we mean?
The unpublished condition report, only provided on an "as requested basis" by Christie's, indicates the following treatment:
"Restored paper losses due to the insects especially on "stoppage étalon" which is print on blue and grey vellum paper. Tiny tears to the "braseuse de chocolat".
Spots of f
oxing inside the cover box and mat staining inside the cover box.
The outside of the box is dirt.
Description of the restoration interventions:
Dust removal by micro-aspiration

Consolidation of the elements of "stoppage étalon"

"Tu m", laying of Japanese paper on the lacks, watercolor retouches.

Consolidation of the other unstuck elements.

The complete restoration report is available on request.
Did Buyer of $823K Jasper Johns 0-9 Set of 10 lithographs realize Number 9 was completely faded?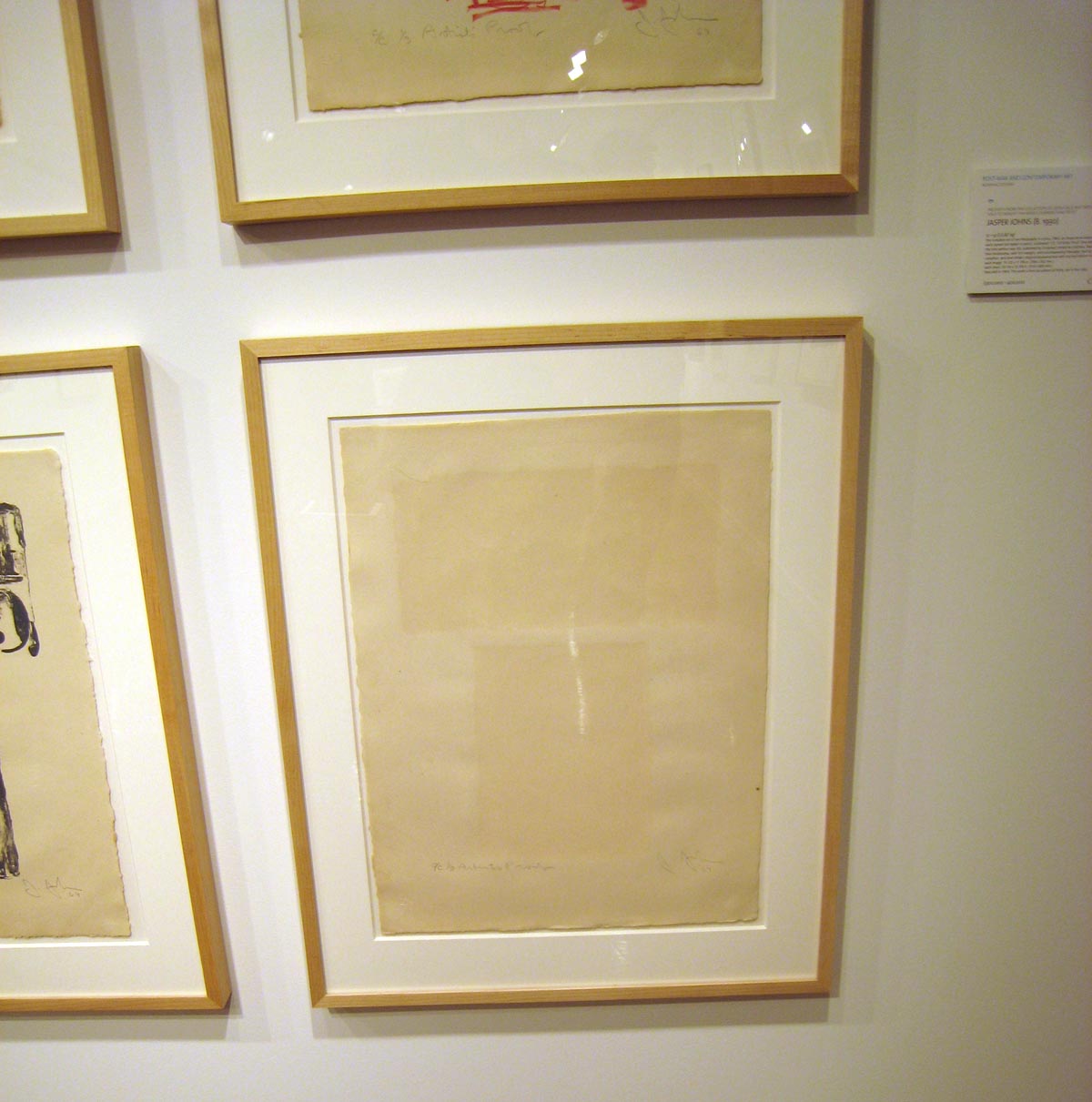 Christie's states Jasper Johns 9 is here.
Do you see it?
The Jasper Johns Set of 10 Figure lithographs, offered from the estate of Merce Cunningham, was sold by Christie's for $823.000., which boils down to $82,300., per print.
Why did the catalogue illustration of this nearly million dollar lot not show accurate colors?
Here is a photograph of the Jasper Johns 0-9 set taken by us during the auction preview, which confirms the colors were not only faded, but most shocking, where is the missing Figure 9?
Look for yourself.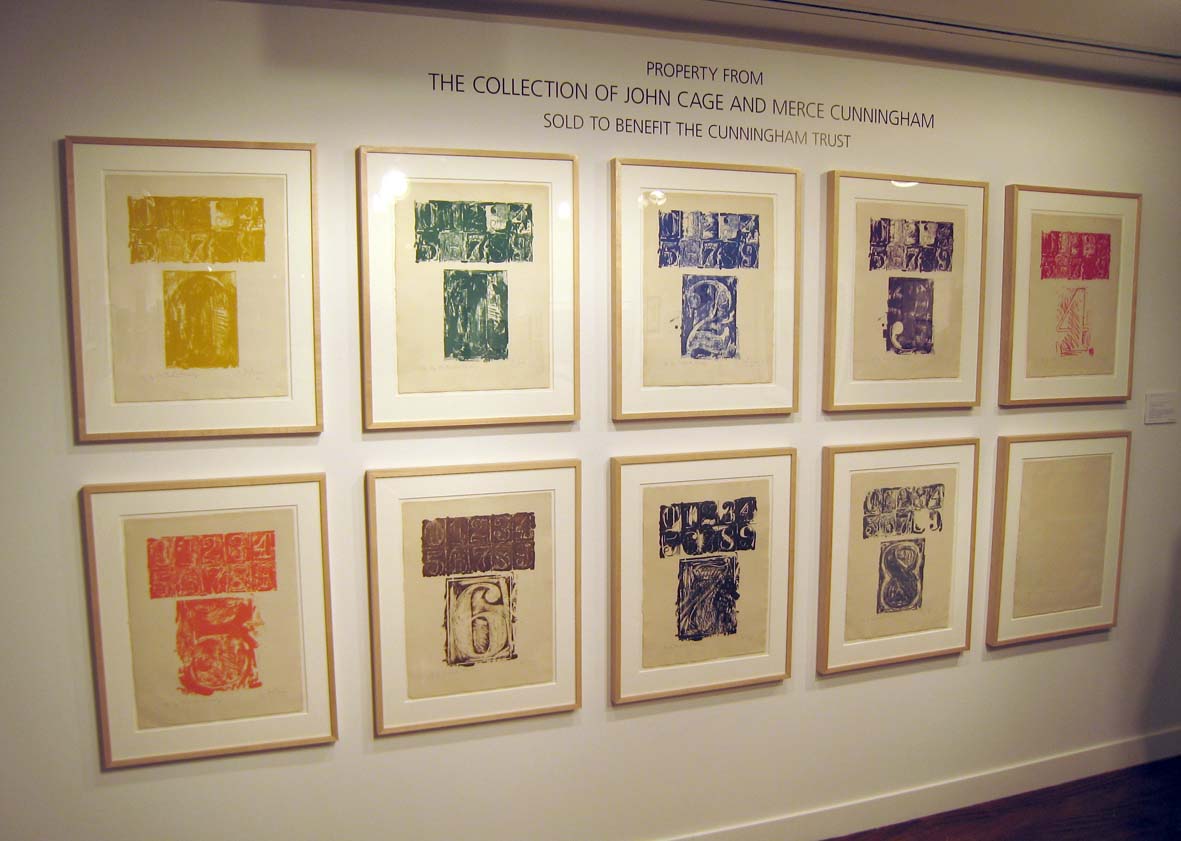 Jasper Johns 0-9 Set sold at Christie's with Missing Figure 9
Many auctions houses state a lot is in good condition, when the condition report clearly indicates otherwise or omits other key issues.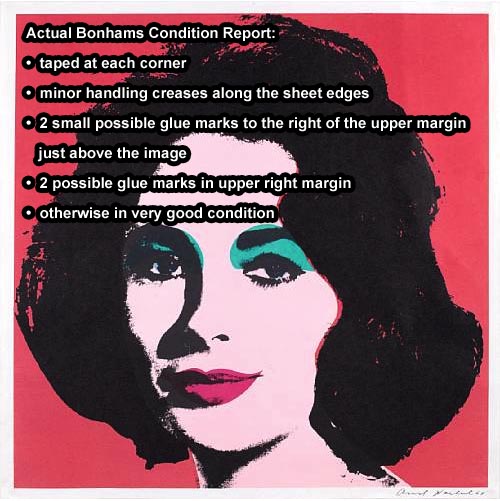 On 7/13/2010, Bonham's will auction a purported Andy Warhol Liz. It
appears that stating a lot is in "good condition" is a requisite for all lots at Bonhams, whether true or untrue.
The unpublished condition not only sites the above listed issues, but omits that this particular impression is trimmed considerably by over 1.3 inches on each side, but is "otherwise in very good condition".
The Andy Warhol Liz was originally published as an offset lithograph with a size of 23 1/8 inches x 23 1/8 inches, yet Bonhams never states that this Work is trimmed!
Good condition

aside from occasional scuffing, a crescent shaped crease at the lower left and creasing in the upper left and lower corners.

How can a Work of Art be otherwise in good condition when it has scuffing, craquelure, ink loss, soiling, nicks, etc.?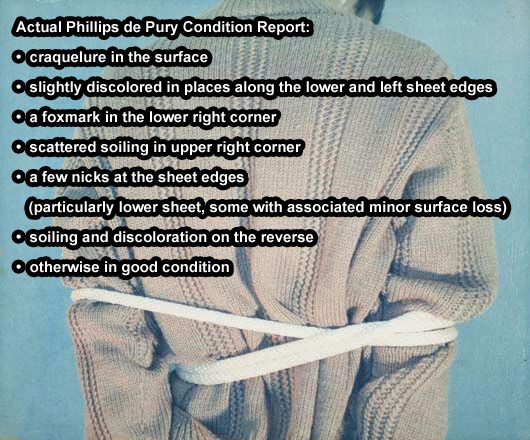 Phillips de Pury recently sold a Bruce Nauman Work for $108,100., that was described in the catalog as follows
"craquelure in the surface, slightly discolored in places along the lower and left sheet edges, a foxmark in the lower right corner, scattered soiling in upper right corner, a few nicks at the sheet edges (particularly lower sheet, some with associated minor surface loss), soiling and discoloration on the reverse, otherwise in good condition."
There is not much left to be in any type of good condition after you read through the litany of problems on the described Bruce Nauman sold by Phillips de Pury for $108,100.


Since there is no
agreed upon
industry standard for assessing the condition of works of art, buyers should always obtain the advice of a professional and informed art expert when buying works of art at auction.